Owners and managers are invited to attend this two-day QSC workshop designed to improve leadership skills, efficiency, productivity, the understanding of financials and key indicators, and team motivation.
The session will begin with discussion on leadership that will help each attendee identify where they fit within their organization. Participants will also discuss the development of attitudes that enable change and actionable items to ensure success.

Additional discussion be given to key performance indicators, to understand what the benchmarks should be and how to hold team members accountable, as well as setting and measuring results. Attendees will gain a basic financial understanding to enhance their leadership skills, understanding and manage more effectively.
Topics Covered: ● Leadership ● Setting Priorities ● Problem Solving and Implementing Change ● Building a Service Culture ● SWOT (Strength, Weakness, Opportunities, Threats) Analysis of Team ● Keeping Score (Financials) ● Motivating your Team
Hotel Accommodations
Question regarding registration? Please call the PHCC National office (703) 237-8100 ext. 893 (Dawn) or email
dalton@naphcc.org
QSC Service Manager Training Class - QSC Member

$749.00

QSC Service Manager Training Class - Non Member

$899.00

QSC Service Manager Training Class - PHCC Member

$799.00
Location
PHCC of Texas, Inc.
145 Trademark Drive
Buda TX 78610-3564
(800) 831-9313 (204)
Location Website
---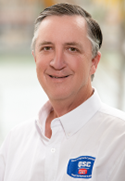 Les Hanks
Les Hanks joined Quality Service Contractors on June 1, 2013 and serves as the Business Management Coach for a variety of services, such as comprehensive business analysis, strategic planning, competitive analysis, program/seminar development and more. Les is a proud 1988 graduate of Texas A&M University with a degree in Finance. An expert in building solid relationships with people has led Les to a successful career as a Business Coach and Consultant. He also has prior experience as the Marketing Manager for a major life insurance company as well as leadership positions in the retirement plan administration and petroleum tax consulting industry. Prior to coming to QSC, Les was a Regional Manager/Business Coach for Mr. Rooter Corporation for over 6 years. His travels took him throughout the west coast and the Midwest, and he was honored to have been involved in the growth and success of many franchises. Les was honored as Mr. Rooter Corporation Team Member of the Year in 2011. Being blessed with excellent written and oral communication skills, relationship building skills, creativity, training skills and a knack for teaching financial concepts is the secret of his success. Les takes great pride and joy in helping business owners succeed in life and in business, and has seen many of the current QSC members he works with enjoy growth and expansion. Les is married to his best friend Christine, has 4 wonderful children, and resides in Waco, TX. His passion outside of family and work is all things Aggie sports, especially football. Les published a book in 2015 called C.H.R.I.S.T. The Pillars of Rock Solid Relationships. It is available on Amazon for those interested in a short, but powerful book on the secret of great relationships in life and business.
Session Name: Service Manager Training Workshop
Role: Trainer