Registration Cutoff: February 7, 2023

BOSS Financial Class

February 13, 2023
8:00am-5:00pm
Tampa, FL.
Business Operation and Systems Success (B.O.S.S.). This one-day course is designed for the plumbing, heating and cooling industry and is intended for company owners, managers, or anyone that needs a better understanding and working knowledge of financial statements, how to use them and how to price their services correctly and profitably!
· Income Statements
· Balance Sheets
· Chart of Accounts
· Accounting Terms
· Ways to Increase Cash Flow
· Managing a Profitable Company
· Sales Worksheets
Breakout sessions:
During the breakout sessions, you will learn how to use financial statements to make business decisions.
This is a powerful learning tool that you can apply to your own business the next day!

This course is open to everyone. PHCC members and QSC members receive a discounted price.
_________________________________________________________________
BOSS Financial Class - Non Member

$425.00

BOSS Financial Class - PHCC Member

$400.00

BOSS Financial Class - QSC Member

$375.00
Location
Federated Insurance
West Shore Corporate Center
Tampa FL 33609-1140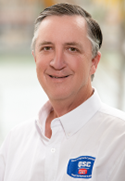 Les Hanks
Les Hanks joined Quality Service Contractors on June 1, 2013 and serves as the Business Management Coach for a variety of services, such as comprehensive business analysis, strategic planning, competitive analysis, program/seminar development and more. Les is a proud 1988 graduate of Texas A&M University with a degree in Finance. An expert in building solid relationships with people has led Les to a successful career as a Business Coach and Consultant. He also has prior experience as the Marketing Manager for a major life insurance company as well as leadership positions in the retirement plan administration and petroleum tax consulting industry. Prior to coming to QSC, Les was a Regional Manager/Business Coach for Mr. Rooter Corporation for over 6 years. His travels took him throughout the west coast and the Midwest, and he was honored to have been involved in the growth and success of many franchises. Les was honored as Mr. Rooter Corporation Team Member of the Year in 2011. Being blessed with excellent written and oral communication skills, relationship building skills, creativity, training skills and a knack for teaching financial concepts is the secret of his success. Les takes great pride and joy in helping business owners succeed in life and in business, and has seen many of the current QSC members he works with enjoy growth and expansion. Les is married to his best friend Christine, has 4 wonderful children, and resides in Waco, TX. His passion outside of family and work is all things Aggie sports, especially football. Les published a book in 2015 called C.H.R.I.S.T. The Pillars of Rock Solid Relationships. It is available on Amazon for those interested in a short, but powerful book on the secret of great relationships in life and business.
Session Name: BOSS Finanical Class
Role: Trainer